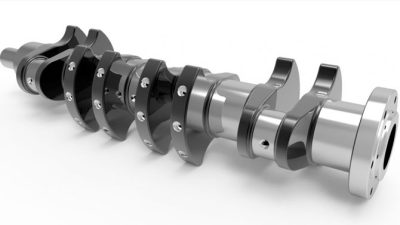 MAN 7L21/31, 6L21/31 crankshaft
If you are a ship owner or work in the marine industry, then you are likely familiar with the importance of a reliable engine. One component that plays a vital role in the performance of your engine is the crankshaft. The MAN 6L21/31 marine crankshaft is a popular choice among boat owners due to its […]
Products | Detials
If you are a ship owner or work in the marine industry, then you are likely familiar with the importance of a reliable engine. One component that plays a vital role in the performance of your engine is the crankshaft. The MAN 6L21/31 marine crankshaft is a popular choice among boat owners due to its durability and efficiency.  we offer everything you need to know about the MAN 6L21/31 marine crankshaft, including its technical specifications, benefits, and frequently asked questions.
Technical Specifications of the MAN 6L21/31 Marine Crankshaft: The MAN 6L21/31 marine crankshaft is a 6-cylinder, four-stroke diesel engine. Here are its technical specifications:
Bore: 210 mm
Stroke: 310 mm
Displacement: 10.5 L
Power range: 3240-4500 kW
Speed range: 600-1000 rpm
Weight: 7000 kg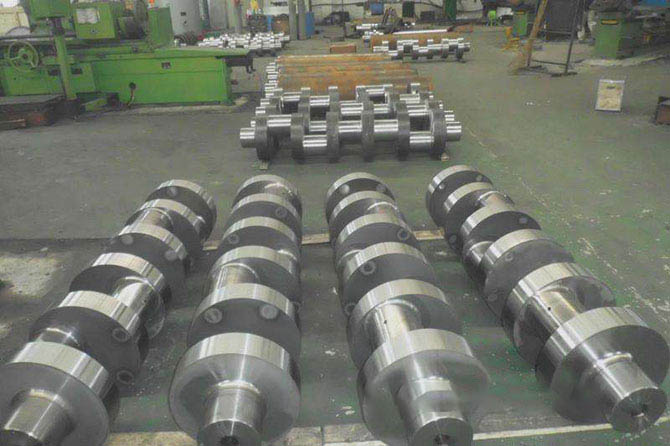 There are many benefits to using the MAN 6L21/31, 7L21 21/31 marine crankshaft. Here are a few of the most notable:
Durability: The MAN 21/31 crankshaft is designed to withstand the harsh marine environment and last for many years.
Efficiency: The engine's fuel efficiency means you can save money on fuel costs, making it an economical choice for boat owners.
Low emissions: The MAN 21/31 crankshaft complies with strict environmental regulations, making it an eco-friendly option.
High power output: With a power range of 3240-4500 kW, the MAN 7L 6L21/31 marine crankshaft can easily handle heavy loads and rough waters.
Crankshaft Design:
The design of a marine crankshaft is critical to ensuring optimal engine performance and durability. Here are some key design factors to consider:
Material: The material used for a marine crankshaft must be able to withstand the high stresses and temperatures generated during operation. Common materials include forged steel, cast iron, and nitrided steel.
Journal Diameter: The journal diameter is the diameter of the main and rod bearings. It is critical to ensure proper oil clearance and lubrication, which helps to prevent damage and prolong the life of the crankshaft.
Stroke: The stroke is the distance that the piston travels inside the cylinder. It is important to ensure that the stroke is compatible with the engine's bore size and the desired power output.
Counterweights: Counterweights are added to the crankshaft to balance the reciprocating motion of the pistons and prevent vibration, which can cause damage to the engine.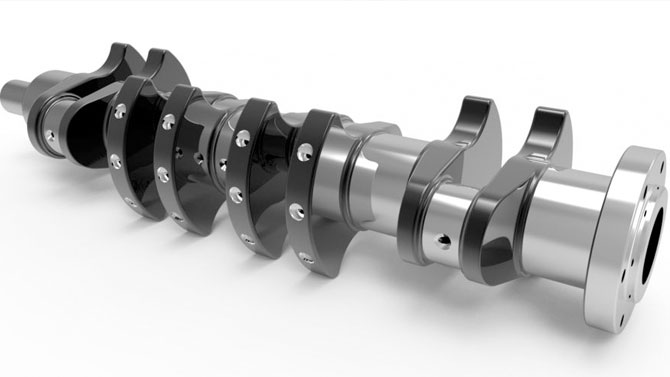 Crankshaft Maintenance:
Proper maintenance is essential to ensure the reliability and longevity of a marine crankshaft. Here are some key maintenance tasks to consider:
Regular Inspection: Regular inspection of the crankshaft can help to identify potential issues before they become major problems. This includes checking for cracks, wear, and corrosion.
Lubrication: Proper lubrication is essential to minimize friction and wear on the crankshaft. It is important to use the correct type and viscosity of oil and to change it regularly.
Alignment: Proper alignment of the engine and transmission is critical to ensure that the crankshaft is not subjected to unnecessary stresses or loads.
Balancing: Balancing the crankshaft helps to reduce vibration and prevent damage to the engine. This is typically done during the manufacturing process, but can also be performed during maintenance if necessary.
FAQs about Marine Crankshafts:
Q: How often should I inspect my marine crankshaft? A: It is recommended to inspect your marine crankshaft regularly, at least once a year or more frequently depending on usage and operating conditions.
Q: Can a damaged marine crankshaft be repaired? A: Depending on the extent of the damage, a marine crankshaft can often be repaired. However, it is important to work with a qualified technician who has experience with marine crankshaft repair.
Q: What are the signs of a failing marine crankshaft? A: Signs of a failing marine crankshaft can include increased engine vibration, loss of power, and increased oil consumption. If you notice any of these symptoms, it is important to have your engine inspected by a qualified technician.
Related Marine Spare Parts: